Douglas's Law of Practical Aeronautical design
When the weight of the paperwork equals the weight of the plane, the plane will fly.
Movie review time

THE AVIATOR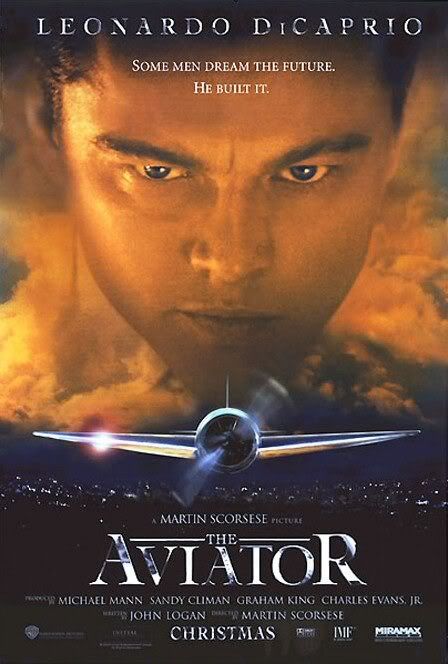 This was the movie that I had seen two weeks ago, and then probably regretted spending three hours of my busy schedule in the midst of many homework and project submissions for it.
True, it has recieved an eleven Oscar nominations and three Golden globe
awards
. But, unless you see it before AND without getting biased by reviews, you will not know how difficult it is to see it.
It does have its own spots of brilliance and flashes of briteness that smother over the other gory and partly eccentric parts of the film. In two simple words, it was
excruciatingly long
. There are certain scenes which I feel could be would have been better had it been shorter.
Clearly, they didnt tell them that if a movie is going to be three hours long, it has to have comedy/adventure/nice graphical effects and so on. I guess it was because if you start describing the personal life of a person, it is not possible to make a human life more interesting than it possibly is.
The
cast
of the movie is quite interesting though.


The first one is obvious, though. It is Leonardo Dicaprio. Ever since he became famous for The Titanic. His boyish face doesnt portray the character that is Howard Hughes.

The next interesting person is Alan Alda. Who can ever forget the uncanny wisecracks in the series M.A.S.H. He plays the role of the corrupt Senator quite strikingly.

Another person who mite not come to your mind is Brent Spiner - the Data from Star Trek: The Next Generation. He plays the character of Robert Gross, who is just a minor character.

The villain of the film - Alec Baldwin plays the role as the Juan Trippe, the head of Pan American Airlines. The first I saw of him was as an overly optimistic person in the F.R.I.E.N.D.S episode Episode 818 - The One in Massapequa (which, surprsingly, is where Alec Baldwin was born).

Jude Law - not something that I know much about.

Kate Blanchett - not someone I am a big fan of.
Go ahead and see the movie. But only if you are extremely frustrated in life, have enough money, have enough time and have no other movie to see.