Fowler's Law
In a bureaucracy, accomplishment is inversely proportional to the volume of paper used.
Skydiving
A burning plane. A gaping hole. Mid-air. You jump. And fall. Fall Endlessly.
The stuff that dreams, rather nitemares, are made off.
And for once, at a very hefty price, I got to experience what it really means to fall endlessly. For 1 minute. From 15000 ft.
It all started with one lazy person in the intern's group at nvidia advertising that his room-mate who skydives regularly wanted to invite people for tandem jump at
Adventure Skydiving Inc
. I, at that time, seeking a lot of thrills, signed up immediately. And on that fateless day, with a warm weather to assist, myself and my friend proceeded to drive to the
skydiving place
.
After the necessary preparations (the legal stuff and 50 signatures), I was geared up and instructed on what to do, as soon as I jump off. But all that is of course useless; you will understand why when you continue reading this.
And then we got on to the rickety plane, of which I was more afraid than the skydiving itself. And, it ascended, and reached the requisite 15000 ft, high above all the surrounding hills. The doors opened. And I started walking towards the opening, with the instructor strapped to my back. And looked down.
Looked at mother earth 15000 ft below.
And a small question popped into my head - whether I need to do this? But that was instantly quelled by the other half of my brain, seeking more adventure.
So I took that gratifying step. Out of the comfort of the plane, into thin air.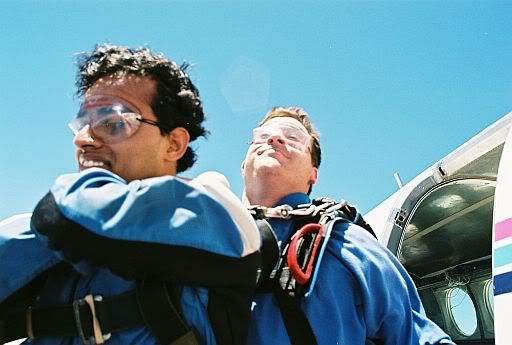 And started tumbling.
And lost orientation. And my mind was a complete blank. All those instructions given just an hour earlier hidind deep behind the folds of my brain. Refusing to come out.
For the first 10 seconds.
Then reflexes took over. And soon settled into a smooth freefall - at 120 mph (190 kmph). That was probably the longest minute of my life.
After freefalling 10000 ft, the parachute opens, resulting in a sudden mid-air brake.
And then you slowly glide to earth. The instructor was kind enuf to give me controls of the parachute for some time. So for about a minute, I turned, twisted and rotated until I found it too tiring (the controls are really tight). And after about 5 minutes, I gently landed on the golden earth.
And that, followed by a lovely lunch at
Saravana Bhavan
ended one of my most fun days.
Warning: SKYDIVING IS NOT FOR THOSE WITH HIGH ALTITUDE PROBLEMS.
Like me - my ears started paining a lot at that altitute.