The Futility Factor
No experiment is ever a complete failure - it can always serve as a bad example, or the exception that proves the rule (but only if it is the first experiment in the series).
EULA woes
We have all come across this familiar screen while installing software: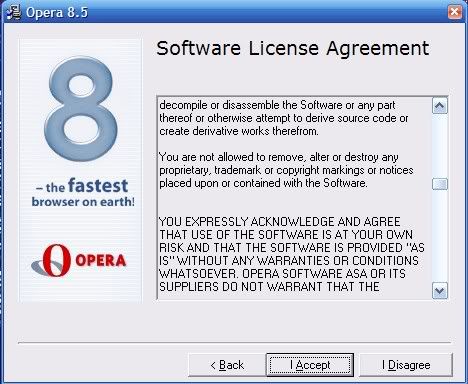 Have we ever bothered to read 'em?. We can't wait to click the next button. There are some softwares, which force you to scroll till the bottom before the Next button becomes available...
TG Daily
(a tech news read) has an
article
, where they have painstakingly gone through EULA's of about half a dozen softwares and have given their take on them.
This was just lovely.
We'll make any changes to this agreement we like, and you've just agreed to them. Take for example Apple's service agreement for iTunes:

Apple reserves the right, at any time and from time to time, to update, revise, supplement, and otherwise modify this Agreement and to impose new or additional rules, policies, terms, or conditions on your use of the Service. Such updates, revisions, supplements, modifications, and additional rules, policies, terms, and conditions (collectively referred to in this Agreement as "Additional Terms") will be effective immediately and incorporated into this Agreement. Your continued use of the iTunes Music Store following will be deemed to constitute your acceptance of any and all such Additional Terms. All Additional Terms are hereby incorporated into this Agreement by this reference.

So, if we happen to install Ming the Merciless as our CEO and President for Life all you iTunes users shall be doomed to spend the rest of eternity listening to 90's pop music.
So if you have some time to kill, head over
here
.